Black Friday and Cyber Monday are just less than a week away!
As customers, these days mean big one-off deals and huge discounts. For business owners and retailers, the holiday season is an opportunity to drive sales before the year ends.
For this week's blog post and visual case study, we're going to look at the year's most significant shopping season events from two perspectives.
First, we look at Black Friday and Cyber Monday from a customer or buyer's perspective. Next, we shift our perspective into that of retailers and business owners.
Black Friday vs. Cyber Monday: What it means for customers
Before 2005, there was only the Black Friday mania for the biggest bargain deals of the year. Yet when Cyber Monday started in the same year, consumers ended up having an extra day of the year scouring shops and online stores for discounts and enticing one-off offers.
So which day has the better deals? Is one superior to the other?
The infographic below highlights the pros and cons of each shopping holiday, including the best items to buy for customers on both days.
Black Friday and Cyber Monday shopping: What it means for retailers
With Cyber Monday and Christmas shopping, the holiday shopping experience has turned into weeks of extended discounts and deals rather than a one-day shop-til-you-drop event on Black Friday. In fact, E-commerce holiday sales jumped to 19 percent in 2018.
So how can retailers benefit from this?
First off, let's take a look at emerging holiday shopping trends.
A 2019 survey of 2500 holiday shoppers across the USA, UK, Germany, and Canada done by Periscope by McKinsey revealed the following:
It seems like customers need guidance and more information in deciding which consumer goods to buy. For this reason, it makes sense to share holiday shopping ideas and inspiration in social media or email newsletters.
While there's a growing number of customers doing their research and purchase online, most shopping still happens in physical stores. Customers, however, would like to see more digitally-enhanced offline shopping experiences such as self-checkout, offers sent to their phones, and browsing products from a digital panel at the store.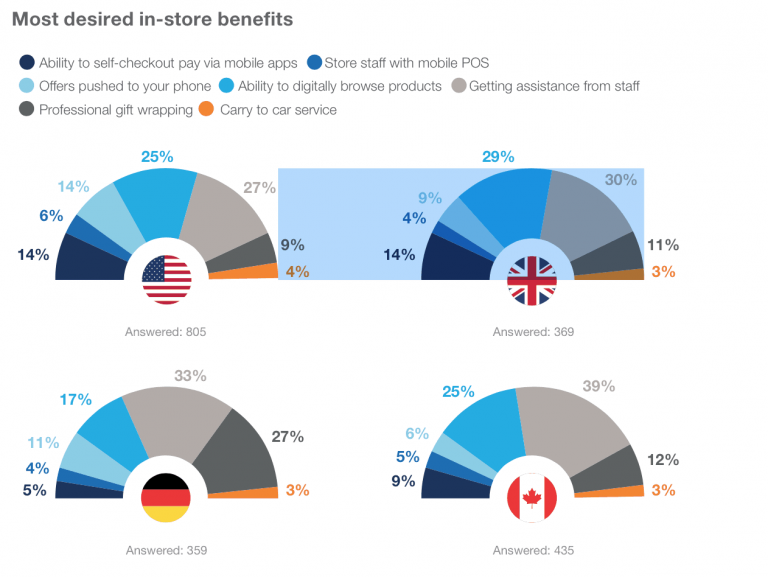 Apart from special offers, customers also value free expedited shipping and delivery certainty for their online purchases.
Customers already have specific budgets and are already doing their research on what and where to buy ahead of time.