So you've finally decided to make infographics. You're on the right track!
Imagine a world without visuals, icons, and graphics. Maps, street signs, and app instructions will be overwhelmingly filled with words and blocks of text.
The lack of visuals will eventually lead to more confusion. In fact, people following directions combining text and illustrations do 323 percent better than those following text-only instructions.
Now, you may be telling yourself, "I'm not really sure if I can make infographics because I'm not a designer."
We get it.
It's always a good idea to leave it to the professionals. You go to a salon to get a haircut. You trust your financial advisor to help you build a solid investment portfolio.
So it makes sense to hire a designer to create an infographic for you, right?
There is an exception to every rule.
The good thing about technology is it enables anyone to learn a skill in a short amount of time, particularly if you know how to find the right resources.
One of the best ways to learn something is to have an expert teach you.
Make infographics from scratch with Easelly
If you want to improve your infographic creation skills, our webinar on making infographics from scratch can help you!
This hour-long webinar (and live Q&A) by our product trainer Dinah Ramirez can help you start off on the right foot in building that connection with your readers and audience through visual content.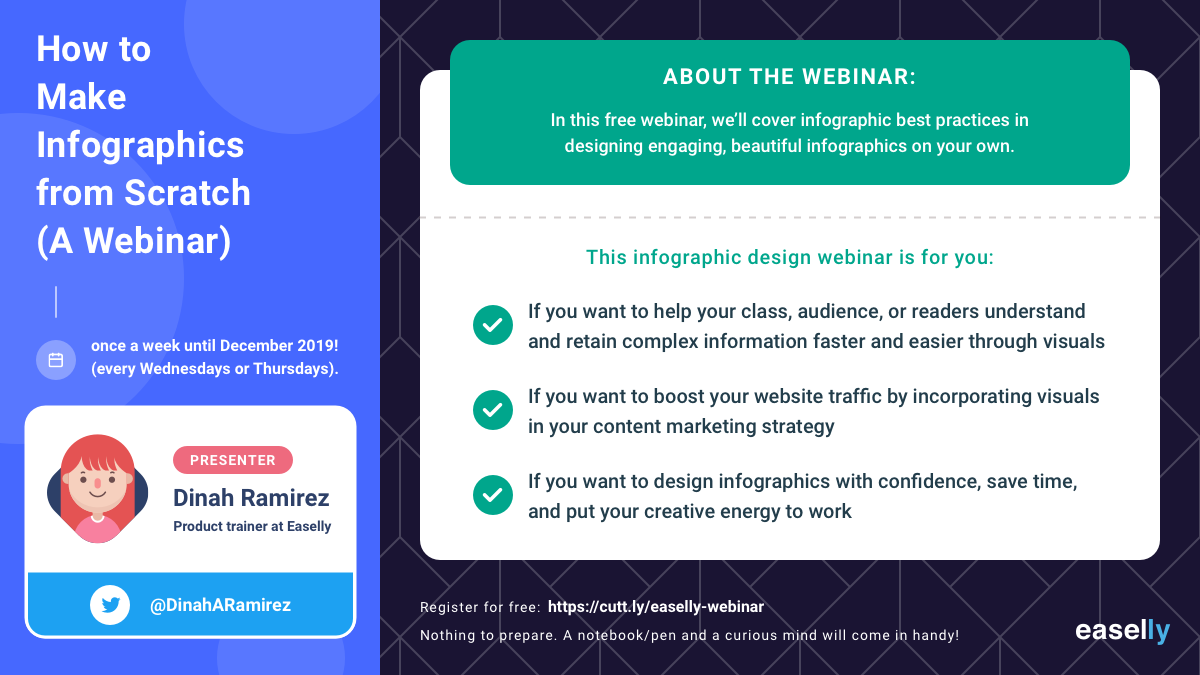 Infographics are easy to understand but they can be time-consuming to create. It can also be challenging to make if you're totally new to the process.

If you're new to using Easelly or just want some tips on creating infographics, join our webinar! It's free and it will roughly last for an hour.
In this webinar, we'll cover infographic best practices in designing engaging, exceptional infographics on your own.
From learning how to choose the right infographic color scheme to planning your infographic structure, think of this webinar as a shortcut to discovering how incredibly simple it is to ideate and design infographics!
This infographic design webinar is for you:
If you want to help your class, audience, or readers understand and retain complex information faster and easier through visuals.
If you want to boost your website traffic by incorporating visual storytelling in your content marketing strategy.
If you want to design infographics with confidence, save time, and put your creative energy to work.
What will you learn
In this hour-long webinar, you'll learn:
How to quickly showcase your story, research, data, and ideas in a visual and shareable way

How to design infographics with confidence
A step-by-step guide to creating infographics with Easelly
How to apply infographic design best practices and create an infographic that educates and delights your viewers at the same time
What You Need to Know
This webinar is free.

The webinar takes at least an hour.
Our product trainer Dinah Ramirez will be hosting the webinar + live Q&A once a week until December 2019! (every Wednesdays or Thursdays)

Webinar details will be emailed after registration. Please check your spam folder.

Nothing to prepare. A notebook/pen and a curious mind will come in handy!

A recorded version will be sent to all attendees after the webinar.
If you've been thinking about learning a new skill or taking your infographic design chops to the next level next year (hello 2020 goals!), you should not miss this webinar!